In this comprehensive guide, we'll walk you through our top 10 picks for the best mountain bike under 1000, alongside valuable information on sizing, essential components, and trail-ready tips. Strap on your helmet, and let's get started on finding your perfect ride!
Mountain biking has never been more accessible, with a wide range of affordable options available for riders of all levels. Whether you're new to the sport or an experienced enthusiast, the best mountain bike under 1000 in 2023 can cater to various preferences and riding styles. So, are you ready to hit the trails without breaking the bank?
In this comprehensive guide, we'll walk you through our top 10 picks for the best mountain bike under 1000, alongside valuable information on sizing, essential components, and trail-ready tips. Strap on your helmet, and let's get started on finding your perfect ride!
Short Summary
This article presents the top 10 best mountain bikes under $1000 in 2023, suitable for beginner and advanced riders alike.
Key components to consider include drivetrains, suspension travel, wheel size and trail-ready tips such as helmet selection and carrying spares.
Longer, slacker bikes with shorter chainstays offer improved stability & control on challenging terrains.
What are the Best 10 Mountain Bikes Under $1000
Mountain bikes under $1,000 have experienced a remarkable transformation in recent years, democratizing access to features that were once the exclusive domain of higher-priced models.
This evolution has made the task of finding an ideal bike to match your needs and budget more straightforward than ever before. From agile singletrack performers to comfortable long-distance cruisers, the diverse range of options within the sub-$1,000 category ensures there's a suitable choice for everyone.
The dynamic landscape of affordable mountain bikes has enabled riders to explore a wide spectrum of terrains and riding styles without breaking the bank. The under $1,000 segment now encompasses a plethora of designs, incorporating advancements in materials, geometry, and components to create a balanced fusion of performance and affordability.
Now, without further delay, let's immerse ourselves in our meticulously curated selection of the top 10 best mountain bikes under $1,000 for the year 2023. Regardless of whether you're a novice discovering the thrill or an experienced rider seeking a budget-friendly upgrade, our compilation has been tailored to accommodate an array of preferences and skill levels.
With these options at your fingertips, it's time to unleash your adventurous spirit on the trails and embark on exciting new journeys.
Exceptional Value: Polygon XTRADA 7
The Polygon XTRADA 7 stands out as a versatile bike that offers exceptional value for money. With decent mechanical disc brakes and fast-rolling WTB Trail Boss tires, this hardtail mountain bike is perfect for tackling rough terrain. Available in both 27.5-inch and 29-inch wheel sizes, the XTRADA 7 is a great choice for riders of all sizes.
Equipped with a popular Shimano Deore 12-speed drivetrain, the Polygon XTRADA 7 ensures smooth and reliable gear shifting for a wide range of off-road adventures. With its impressive specifications and affordable price, the XTRADA 7 is a top choice for value-conscious riders seeking a high-quality and versatile bike, making it a strong competitor to co-op cycles dirt.
Online Gem: Canyon Stoic 2
If you're searching for reliable and well-built hardtail mountain bikes available online, look no further than the Canyon Stoic 2.
This hardtail mountain bike offers excellent value and performance for its price, making it a top contender in the under $1000 category. Similar to the Cannondale Trail series, the Stoic 2 features a high-quality alloy frame.
The Canyon Stoic 2 boasts a suspension suitable for a variety of terrains, making it one of the most affordable bikes priced below $1000. Its well-rounded design and online availability make the Stoic 2 a true gem in the world of MTB.
Singletrack Speedster: Cube Analog
For thrill-seekers who love speeding through singletrack trails, the Cube Analog is your perfect match. This incredibly fast and agile bike is designed for quick and efficient singletrack cruising.
With an SRAM Eagle SX1 X 12 drivetrain and availability in both 27.5" and 29" wheel sizes, the Cube Analog provides a versatile and high-performance ride.
Well-received for its geometry, seating position, ride quality, and suspension, the Cube Analog is a top choice for riders who crave an exhilarating trail experience. Get ready to conquer those singletracks with speed and precision!
Budget-Friendly Choice: Vitus Nucleus 27 VR
When it comes to finding a budget-friendly option without compromising quality, the Vitus Nucleus 27 VR is a top contender. This affordable bike offers a great balance between price and performance, featuring a 120mm Suntour fork for smooth and comfortable rides.
The Nucleus 27 VR is fitted with a 10-speed Shimano Deore drivetrain, Clarks M2 brakes, WTP ST i30 wheels, and Schwalbe Magic Mary/Nobby Nic tires, providing excellent value for its price.
The 27.5-inch wheels on the Vitus Nucleus are more responsive than 29ers for jumps, stunts, and general play. The WTB branded wheels and rubber ensure reliable handling and tire grip.
If you're seeking an economical choice with solid features, the Vitus Nucleus 27 VR is a fantastic option.
Beginner's Pick: GT Aggressor Expert
The GT Aggressor Expert is the ideal entry-level bike for novice riders, offering both 27.5in and 29in wheel options to suit a range of preferences.
With an 80mm coil fork from SR Suntour, this user-friendly bike provides a smooth and comfortable ride on less demanding off-road routes, such as fire roads, tow paths, and easy blue runs from trail centers.
Equipped with a 3×8 drivetrain, the GT Aggressor Expert offers versatility and reliability for beginner riders embarking on their first single track adventure.
Hop on and discover the exciting world of off-road riding with confidence.
Quality Build: Giant Talon 4 29
For riders who seek a reliable and durable option, the Giant Talon 4 29 is a good mountain bike choice. This lightweight mountain bike boasts excellent build quality and a durable aluminum frame, making it a dependable pick for budget-conscious riders. Available in small, medium, large, and extra-large sizes, the Talon 4 29 caters to riders of various heights and preferences.
With its impressive frame and affordable price tag, the Giant Talon 4 29 is a quality build that won't disappoint. Take on the trails with confidence knowing that your bike is up for the challenge.
Long Ride Comfort: Cube Aim 29
For those who prioritize comfort on extended adventures, the Cube Aim 29 is a fantastic option. Designed for long rides, this bike provides stability and smoothness over a variety of terrains.
Equipped with a lightweight aluminum frame, a Shimano Deore 1×10 drivetrain, and a RockShox Recon RL suspension fork with 120mm of travel, the Cube Aim 29 ensures a comfortable and efficient ride.
Additionally, the bike features Shimano hydraulic disc brakes and a Suntour XCM-RL suspension seatpost for added comfort. Enjoy your extended adventures on the Cube Aim 29, a bike built for long-lasting comfort on the trails.
Women's Choice: Devinci Riff Deore '21
The Devinci Riff Deore '21 is a lightweight and well-equipped bike designed specifically for female riders. With 29-inch wheels that measure 2.4 inches in width, the Riff Deore '21 offers a comfortable and stable ride.
The bike is equipped with an SR Suntour XCR Air 100mm fork travel for its front suspension, ensuring a smooth and responsive ride over various terrains.
Featuring a Shimano Deore 10-speed drivetrain and Shimano MT200 hydraulic disc brakes, the Devinci Riff Deore '21 provides reliable performance and control.
Ladies, gear up for your next mountain biking adventure with this top-performing bike designed just for you.
MTB Size Guide
When it comes to mountain biking, the importance of selecting the correct bike size cannot be overstated. A comfortable and efficient riding experience hinges on understanding the nuances of frame sizing and the merits of diverse bike geometries.
Factors such as longer, slacker bikes and shorter chainstays can significantly impact your ride, making it crucial to grasp these concepts before making a decision.
Within this comprehensive guide, we aim to demystify the realm of bike sizing and provide a comprehensive overview of the benefits tied to various bike geometries.
Regardless of whether you're an occasional rider seeking leisurely adventures or an experienced mountain biking enthusiast aiming to conquer technical trails, the significance of choosing the appropriate bike size remains universal.
As you delve into this guide, you'll uncover essential insights that empower you to make an informed decision regarding sizing.
By grasping the dynamics of longer, slacker bikes and shorter chainstays, you'll unlock the potential to optimize your riding experience.
So whether you're navigating serene woodland trails or challenging downhill trails, the knowledge gained from this guide will serve as your compass in finding the perfect-sized bike. Get ready to ride with confidence and comfort on every trail you encounter.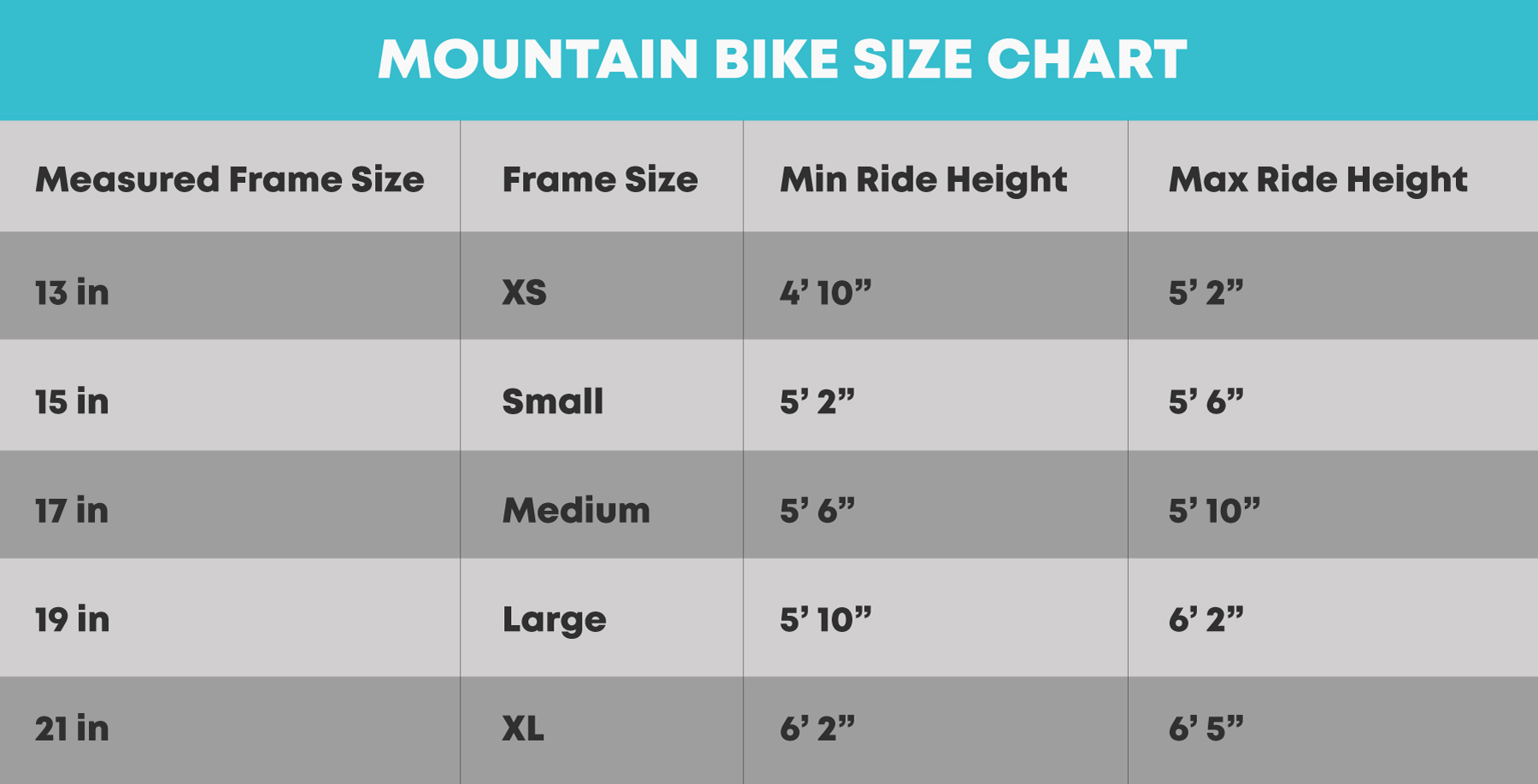 Longer, Slacker Bikes
As you explore the diverse world of mountain bike geometries, the concept of longer, slacker bikes emerges as a pivotal factor that can redefine your riding experience.
These bikes, characterized by their relaxed geometry, have been meticulously designed to usher in a realm of increased stability, enhanced control, and a profound sense of comfort – all of which form the cornerstone of an unforgettable journey on the trails.
Imagine the thrill of descending a steep, rocky incline, where every twist and turn demands the utmost precision. A bike with a longer, slacker geometry becomes your steadfast companion, allowing you to command the terrain with unwavering confidence.
The extended front end instills a sense of stability that's particularly pronounced at higher speeds and during daring downhill sections. As you navigate technical descents that once seemed daunting, you'll find yourself in control of every twist, bump, and contour.
The slacker angle of the bike's head tube contributes to this newfound control by enhancing your ability to navigate through challenging obstacles.
The bike's relaxed posture empowers you to confidently attack rough terrain, knowing that its geometry is tailored to absorb shocks and impacts.
The result? A smoother and more composed ride, whether you're exploring rocky trails or tackling root-laden paths.
However, it's important to recognize that longer, slacker bikes might offer a different feel when it comes to agility and responsiveness, especially in tighter trail sections or when climbing. Their stability-centric design might trade off a bit of maneuverability for the sake of surefootedness.
When considering your biking aspirations, if you find yourself gravitating toward comfort, stability, and the desire to navigate challenging terrains with poise, a longer, slacker bike stands as a compelling choice.
It's an invitation to explore trails with newfound courage, knowing that your bike is engineered to provide you with a cushion of control, ultimately making your off-road escapades an epitome of confidence and enjoyment.
Shorter Chainstays
When considering the intricate aspects of bike geometry, the length of chainstays emerges as a pivotal factor that can significantly influence your riding experience.
Bikes equipped with shorter chainstays introduce a dynamic element to your journey on the trails, enhancing your maneuverability and control in ways that redefine the boundaries of fun and adventure.
The beauty of shorter chainstays lies in the immediate impact they have on the bike's handling characteristics. Imagine navigating a labyrinth of rocks, roots, and drops.
A bike with shorter chainstays becomes your agile partner, responding to your every command with remarkable precision.
As you shift your weight and make split-second decisions, the reduced length of chainstays translates into an exhilarating blend of quick handling and instantaneous responsiveness.
This newfound agility is a boon when confronting technical terrain. Tight switchbacks and challenging rock gardens are no longer formidable obstacles; they become opportunities for exhilarating engagement.
The reduced chainstay length enhances rear-wheel traction, ensuring that every ounce of power you exert translates into forward momentum.
Whether you're executing tight turns that demand finesse or engaging in dynamic tricks that demand split-second timing, the shorter chainstays provide the edge you need to conquer these challenges with flair.
However, it's essential to note that shorter chainstays may come with some trade-offs. While they excel in agility and playfulness, they might not provide the same stability as longer-chainstay bikes at higher speeds or during descents.
Additionally, for riders who prioritize comfort on long rides, the potentially more compact rear triangle could influence the overall ride feel.
Ultimately, the choice between shorter and longer chainstays depends on your riding style and preferences. If you're drawn to the prospect of agile handling, technical prowess, and the ability to execute thrilling maneuvers with finesse, a bike with shorter chainstays is a captivating option.
Embark on the trails with renewed confidence, knowing that you have a nimble partner that invites you to push the boundaries of what's possible.
Key Components to Consider
As you embark on the quest for your ideal mountain bike under $1000, navigating the array of available options demands a keen consideration of key components that wield the power to define your riding experience. In this pivotal segment, we delve into the crucial elements – from drivetrains to suspension travel and wheel size – that harmonize to create the symphony of your off-road journey.
Drivetrains: Shifting into Precision
The drivetrain serves as the heart of your bike's propulsion, and the choices within this realm can significantly influence your ride.
Whether you're drawn to the simplicity of a single-speed setup or the versatility of multiple gears, understanding the nuances of drivetrain configurations ensures you find the setup that seamlessly aligns with your riding style.
Suspension Travel: Navigating the Terrain
Suspension travel is your passport to conquering diverse terrains with confidence and comfort. The range of suspension options within the sub-$1,000 category opens doors to traversing rocky trails, absorbing shocks with finesse, and maintaining control on technical descents.
By matching your intended terrain with the appropriate suspension travel, you'll craft a ride that feels tailor-made for your exploration.
Wheel Size: Rolling into Adventure
The diameter of your bike's wheels might seem like a subtle detail, but it plays a pivotal role in determining how your bike handles various landscapes.
Smaller wheels offer nimble maneuverability, while larger wheels excel in smoothing out uneven terrain. Balancing your preference for agility or stability with the benefits of each wheel size is the key to unlocking a ride that resonates with your desires.
Drivetrains
Modern bikes under $1000 often feature 1x drivetrains with 10 or more speeds, providing smooth and reliable gear shifting. These drivetrains are popular among mountain bikers, as they offer a wide range of gears to tackle varying terrain with ease.
Whether you're climbing steep hills or cruising down technical descents, a reliable drivetrain is essential for a smooth and enjoyable ride. Keep an eye out for reputable brands like Shimano and SRAM when selecting your bike, as they are known for their dependable and seamless shifting performance.
Suspension Travel: Mastering the Art of Dynamic Ride Control
Among the intricate facets warranting your discerning consideration, suspension travel emerges as a pivotal determinant in your acquisition of a full suspension mountain bike, which you will be hardpressed to find within the sub-$1000 spectrum.
Within this context, it's essential to recognize that bikes in this price bracket commonly offer approximately 130mm of suspension travel. Notably, RockShox forks have steadily ascended in prominence, celebrated for their unwavering commitment to quality and top-tier performance.
In the realm of mountain bike suspension, the veritable conductor orchestrating the harmony between rider and trail. As you maneuver across rugged terrains, the role of proficient suspension is to adeptly absorb shocks and undulations, bestowing upon you a ride that's distinguished by its fluidity and comfort. The intricate artistry of good suspension design is rooted in its ability to minimize jolts and disruptions, allowing you to navigate uneven paths with remarkable grace.
In your pursuit of the perfect mountain bike, I encourage you to cultivate a discerning eye towards suspension travel and fork craftsmanship. This pair of factors stands as the bedrock upon which your trail experience is built. By opting for a system that showcases exceptional suspension travel and aligning your choice with the craftsmanship prowess of renowned names like RockShox, you lay the foundation for a ride that resonates with unparalleled finesse and exhilaration.
In essence, mountain bike suspension travel isn't merely a numerical abstraction; it's the architect of your journey's cadence, shaping each interaction between wheel and earth with a symphony of precision.
Between us, you don't need a full suspension mountain bike to have a blast on the trail.
Wheel Size Comparison
Finally, it's important to consider wheel size when choosing your mountain bike. The three main MTB wheel sizes are 27.5-inch, 29-inch, and 27.5+ inch, each with their own advantages and disadvantages.
27.5-inch wheels offer a balance of agility and stability, making them suitable for a variety of terrains. 29-inch wheels provide enhanced stability and roll-over capacity, ideal for challenging terrain. Lastly, 27.5+ inch wheels offer increased traction and cushioning, perfect for technical terrain.
By understanding the differences between these wheel sizes, you'll be better equipped to choose the perfect bike for your riding style and preferences.
Trail-Ready Tips
Prepare for an unforgettable adventure by arming yourself with essential insights that guarantee a safe and exhilarating ride. This segment is dedicated to providing you with practical tips on helmet selection, pedal preferences, and carrying vital spare parts, ensuring that your trail experience is marked by confidence and readiness.
Pedal Choices: Power and ControlYour pedal choice can significantly impact your riding experience. Clipless pedals provide enhanced power transfer, while flat pedals offer quick foot movement and a sense of security. Choose the option that aligns with your skill level and riding style.
Carrying Spare Parts: Be PreparedMechanical hiccups are part of mtb'ing. Carrying spare tubes, a multitool, tire levers, and a mini pump or CO2 inflator ensures you're equipped to handle minor repairs and keep your ride going smoothly.
Helmet Selection
Choosing the right helmet is a critical decision that underscores your commitment to safety and enjoyment during your escapades. In this dedicated section, we'll provide valuable insights into selecting a helmet that aligns with your needs, ensuring your head remains protected while you conquer the trails.
Certification Matters: Prioritizing SafetyLook for helmets certified by recognized safety standards such as CPSC or ASTM. These certifications ensure that the helmet meets stringent safety requirements, offering you reliable protection in case of a fall or impact.
Comfort and Fit: Your Riding CompanionA well-fitting helmet is key to both comfort and safety. Try on different sizes and models to find the one that snugly cradles your head without causing discomfort. Adjustable retention systems and padding contribute to a secure and comfortable fit.
Ventilation and Design: Be Rad and StylishVentilation is crucial to prevent overheating during intense rides. Opt for helmets with sufficient vents that facilitate airflow. Additionally, consider a design that resonates with your personal style, ensuring you feel confident and look great on the trails.
Pedal Choices
Selecting the appropriate pedals is a decision that wields a substantial influence on your performance and control. In this dedicated section, we delve into the intricacies of pedal choices, equipping you with the insights needed to maximize your efficiency and enjoyment while traversing the trails.
Flat Pedals: Unrivaled Control and StabilityFlat pedals offer an immersive connection between your foot and the pedal, translating into enhanced control and stability. They allow you to swiftly plant your foot on the ground if needed and promote a more intuitive riding experience, ideal for technical terrain and trail exploration.
Clipless Pedals: Elevating Power and EfficiencyClipless pedals provide a secure attachment between your shoe and the pedal, delivering improved power transfer and pedaling efficiency. This design prevents your feet from slipping off during intense climbs or descents, contributing to a smoother and more consistent pedal stroke.
Grip and Compatibility: Tailoring Your ChoiceConsider the grip offered by the pedals' surface to ensure a secure foothold in various conditions. Additionally, take into account compatibility with your cycling shoes. Some shoes are specifically designed for clipless pedals, while others are optimized for flat pedals.
Carrying Spares
Embarking on a ride demands more than just enthusiasm; it requires a strategic approach that anticipates unforeseen challenges. In this dedicated section, we delve into the art of carrying spares and tools, equipping you with the knowledge needed to handle any trailside hiccups and maintain a seamless ride.
Essential Spare Parts: Building a Safety NetA well-equipped pack is your ally in times of need. Consider packing essentials such as a spare chain link and a multi-tool featuring a chain tool. These components can be instrumental in addressing chain-related issues that may arise during your ride.
Inner Tube and Pump: Navigating FlatsFlats are a common occurrence on the trails, but they needn't derail your adventure. Carrying a spare inner tube and a pump empowers you to swiftly address punctures and keep your ride going. Make sure your pump is compatible with both your tubes and the valve types you encounter.
Preparedness: A Trailside VirtueThe value of preparedness cannot be overstated. Carrying spares and tools serves as an insurance policy against trailside challenges. Remember, the trails are your playground, but they can also throw surprises your way. Being well-prepared ensures you have the means to tackle these challenges head-on.
By embracing the concept of carrying spares, you're embracing a mindset of empowerment and resilience. As you venture into the unknown terrains, the items within your pack – the spare chain link, the multi-tool, the inner tube, and the pump – become your lifeline, a testament to your readiness to face the unexpected. So, pedal forth with confidence, knowing that you're equipped with the tools needed to transform adversity into triumph on every trail you conquer.
Summary
In conclusion, the world of mountain biking is more accessible than ever, with a diverse range of high-quality bikes available for under $1000. From exceptional value options like the Polygon XTRADA 7 to women's specific designs like the Devinci Riff Deore '21, there's a bike to suit every rider's preferences and budget.
We hope this comprehensive guide has provided valuable insights into the top mountain bikes under $1000 in 2023 and helped you identify the perfect bike for your needs. Armed with this knowledge, you're now ready to hit the trails and head out on your next riding adventure. Happy shredding!
Frequently Asked Questions
What factors should I consider when selecting a mountain bike under $1000?
When selecting a mountain bike under $1000, focus on features, size, drivetrain, suspension travel, and wheel size to ensure you get the right bike for your riding style.
Pay attention to the components and materials used, as well as the geometry of the frame. Consider the type of terrain you will be riding on and the type of riding you plan to do. Make sure the bike fits you properly and is comfortable to ride.
What is the difference between flat and clipless pedals?
Flat pedals offer increased control and stability, while clipless pedals provide enhanced power and efficiency.
Both have their own distinct benefits and drawbacks.
How can I determine the correct mountain bike size for me?
Consult a mountain bike sizing guide to determine the right size for you based on your height and other factors. This will ensure that you choose the correct size mountain bike for your body.
What are the benefits of longer, slacker bikes and shorter chainstays?
Longer, slacker bikes offer greater stability and control, while shorter chainstays make for a more responsive ride, giving you the best of both worlds.
What essential spare parts and tools should I carry on my rides?
Make sure to bring a spare chain link, multi-tool with a chain tool, inner tube, and pump when you go on rides, so you can be ready for any surprises! No matter how prepared you think you are, it's always a good idea to bring a few extra items with you. This way, you can be sure that you're ready for any unexpected issues that may arise. Would you like to know more about spare parts? You can check out this informative article.