There's a unique sense of freedom and adventure that mountain biking brings. The thrill of speeding down rugged trails, the feeling of being one with nature, and the opportunity to challenge yourself physically and mentally are just a few factors that make it an enticing sport. But it all begins with one crucial step – choosing the best beginner mountain bike. The bike forms the foundation of your mountain biking journey and making a well-informed choice can significantly enhance your riding experience.
Short Summary
Choose the right beginner mountain bike for budget, riding style, terrain preferences and frame material & size.
Ensure features like drivetrain, brakes and suspension are suitable for your needs.
Regular maintenance is essential to keep your mountain bike in optimal condition.
Choosing the Right Mountain Bike for Beginners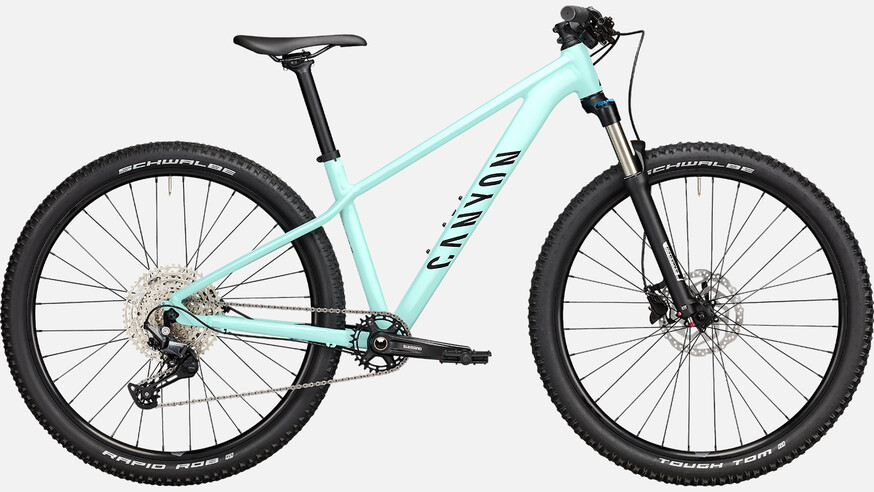 When embarking on your mountain biking journey, the first hurdle you'll encounter is selecting the right bike. It's not as simple as choosing the one with the most appealing design or the cheapest price tag. The best mountain bikes for beginners are those that provide a perfect blend of affordability, comfort, and durability. It's about finding a bike that suits your riding style, terrain preferences, and budget while offering the best possible performance and value.
In this pursuit, there are three major factors to consider – your budget, your riding style and the terrain you'll be tackling, and the bike's frame material and size. Let's delve into these factors one by one to give you a comprehensive understanding of how to choose your first mountain bike.
Here is a complete article on how to choose a MTB that fits you!
Importance of Budget
Setting a realistic budget is your first step towards finding your perfect beginner mountain bike. As tempting as it might be to go for the cheapest option available, it's important to remember that you get what you pay for when it comes to mountain bikes. Allocating a budget of approximately $1,000 for your first mountain bike is a good starting point. This budget range typically offers bikes with decent quality components that can withstand the rigors of beginner-level mountain biking.
But the cost of the bike itself isn't the only financial factor to consider. There are additional costs such as necessary accessories, including:
A helmet
Pedals
Multi-tool
Track pump
Shock pump
Other mountain biking essentials
These items are vital to your safety and the overall riding experience, so don't overlook them when setting your budget.
Riding Style and Terrain
The terrain you plan on tackling and your preferred riding style are two closely intertwined factors that play a significant role in determining the best beginner MTB bike for you. For instance, if you're planning on cross country riding or tackling local trails, hardtail mountain bikes could be your best bet. These bikes are known for their lighter weight and better efficiency on smoother trails and steep climbs.
Terrain can range from smooth and flowy singletrack to rocky and technical trails. Each terrain type demands different bike specifications and features. For example, the Norco Storm 5, with its 100mm travel SR Suntour XCE 28 fork, is ideal for trail mountain biking. On the other hand, the Rocky Mountain Fusion 40, a perfect trail bike with its 29" wheel size, is perfect for quick, nimble off-road riding.
Understanding the type of terrain you will be riding on will help you make an informed decision about which bike to choose.
Frame Material and Size
The bike's frame material and size are two critical factors that influence not just the bike's performance, but also its comfort and longevity. There are three common frame materials used for beginner bikes.
Aluminum: offers a blend of lightness and durability but is costlier than steel.
Steel: though heavier than aluminum, is strong and economical.
Carbon: lightweight and strong, but it is the most expensive frame material.
Each material has its own set of pros and cons.
Choosing the correct frame size is crucial for a comfortable and efficient ride. A frame that is too small can lead to discomfort and exhaustion, while a frame that is too large can make managing the bike challenging. It's essential to refer to mountain bike-specific size charts and, if possible, test ride the bike to ensure the right fit. Let's have a look at some of the best beginner mountain bikes
Top Beginner Mountain Bikes: Hardtail Models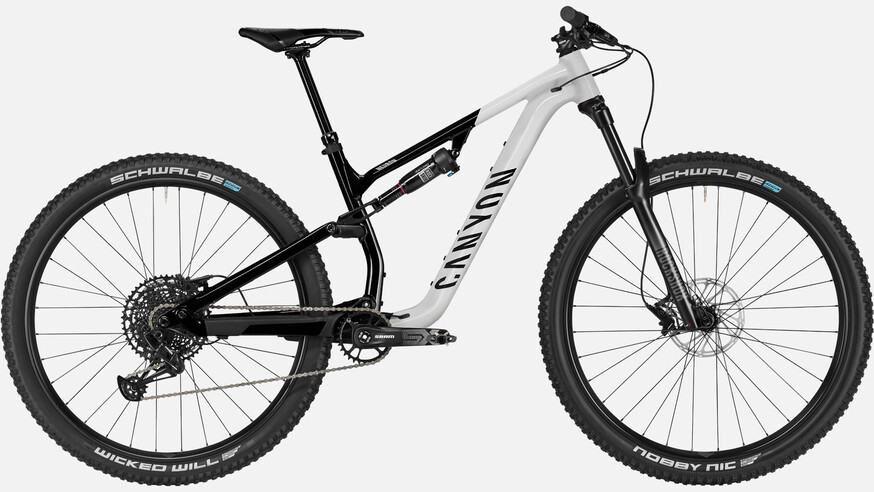 After discussing the key factors to consider when choosing beginner mountain bikes, let's move on to some specific bike recommendations. We will start with hardtail models which, with their single suspension setup, offer a perfect blend of affordability and simplicity for beginners.
Here are the top three best beginner MTB's that provide excellent value for beginners, all of which are hardtails.
Giant Talon 29 2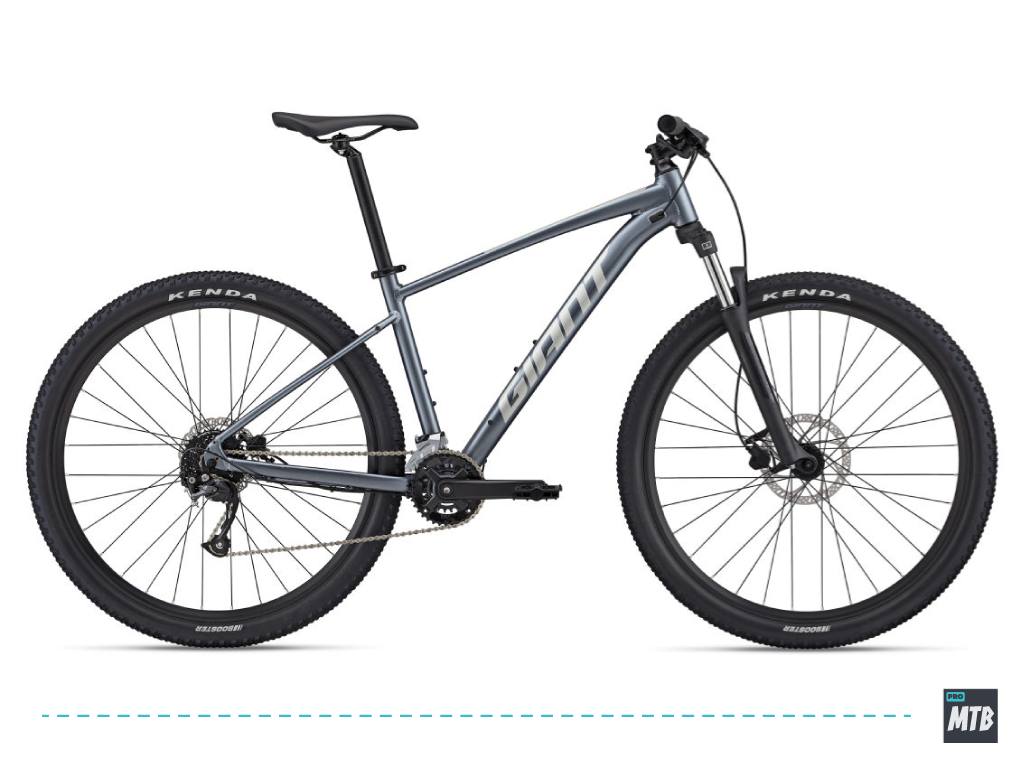 First on our list is the Giant Talon 29 2. This bike offers a reliable component set and large 29-inch wheels that provide a balanced combination of stability and speed. It's a great value hardtail that is well-suited for those starting their mountain biking journey.
The Giant Talon 29 2 comes equipped with a SR Suntour suspension fork offering 100mm of travel, Tektro hydraulic disc brakes, and a 37 Shimano Tourney drive chain. These features make it an ideal choice for taking on light trails and off-road routes.
Priced at $999, the Giant Talon 29 2 is an affordable option that doesn't compromise on quality or performance.
Norco Fluid HT 1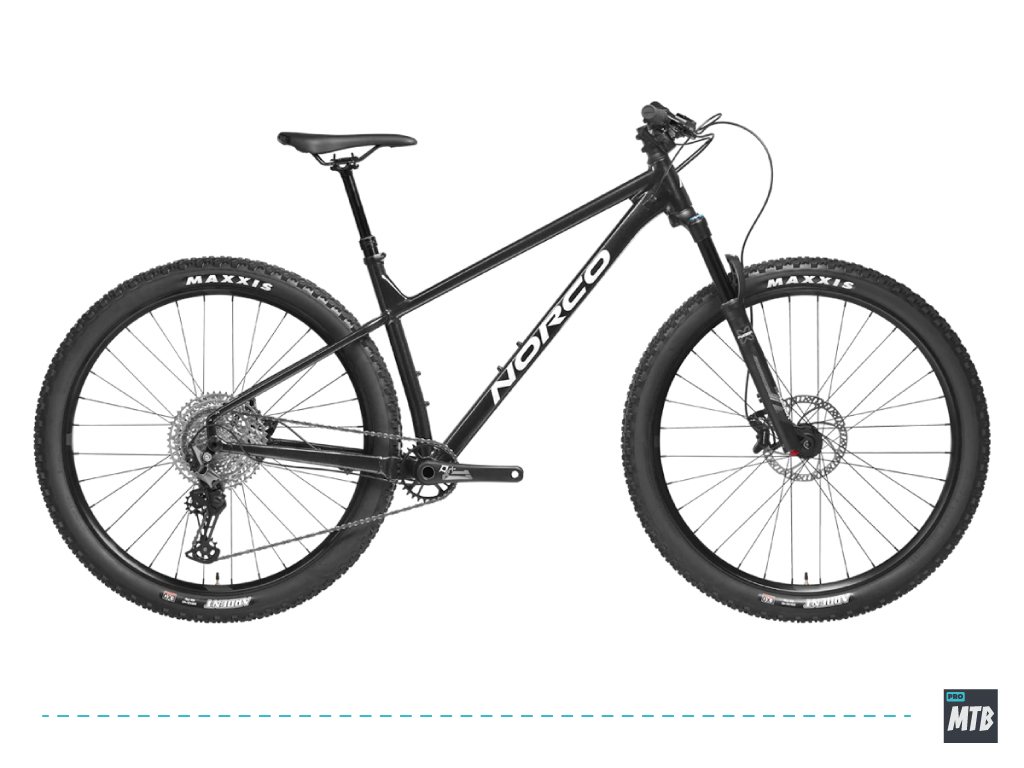 Next up is the Norco Fluid HT 1. This bike stands out with its progressive aluminum frame design and the option to choose between 27.5" and 29" wheel sizes. This versatility makes it well-suited for a variety of riding styles and terrains.
The Norco Fluid HT 1 features:
Front suspension
Disc brakes
Lightweight aluminum frame
1x drivetrain
Its modern trail geometry ensures a balanced ride, making it a great choice for beginners looking to tackle technical terrain and steep slopes.
Scott Aspect 940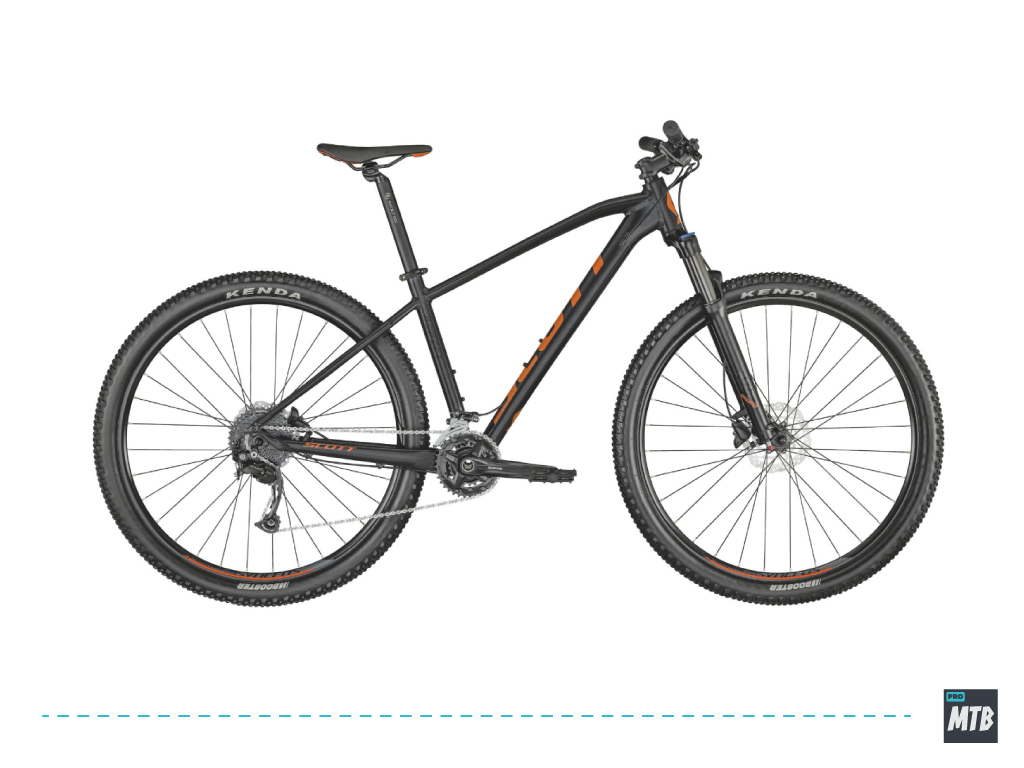 Last but not least, we have the Scott Aspect 940. This is a great option for beginner mountain bikers, offering:
Lightweight frame
Dependable components
Front suspension
Disc brakes
Lightweight aluminum frame
1x drivetrain
These features, combined with its modern geometry, ensure a comfortable ride across a variety of terrains.
Whether you're tackling smooth trails or rough terrains, the Scott Aspect 940 has you covered.
Top Beginner Full Suspension Mountain Bikes: The Models
Moving on from hardtail models, let's explore some full suspension options. Full suspension bikes, with their dual suspension setup, provide added comfort and control, especially on rough and technical terrains.
Here are the top three suspension mountain bikes for beginners in the full suspension bikes category. Aren't we lucky, just 10 years ago full suspension bikes would not fall under the affordable mountain bikes category.
Diamondback Atroz 1
The Diamondback Atroz 1 is a fantastic entry-level full suspension mountain bike. It offers a durable frame and balanced suspension, ensuring a comfortable ride on even the roughest terrain.
The Diamondback Atroz 1 features:
6061 T-6 Aluminum frame
Optimized single pivot with sealed cartridge bearings for great handling and durability
4" of travel, making it a versatile choice for varying trail conditions.
Marin Rift Zone 27.5 1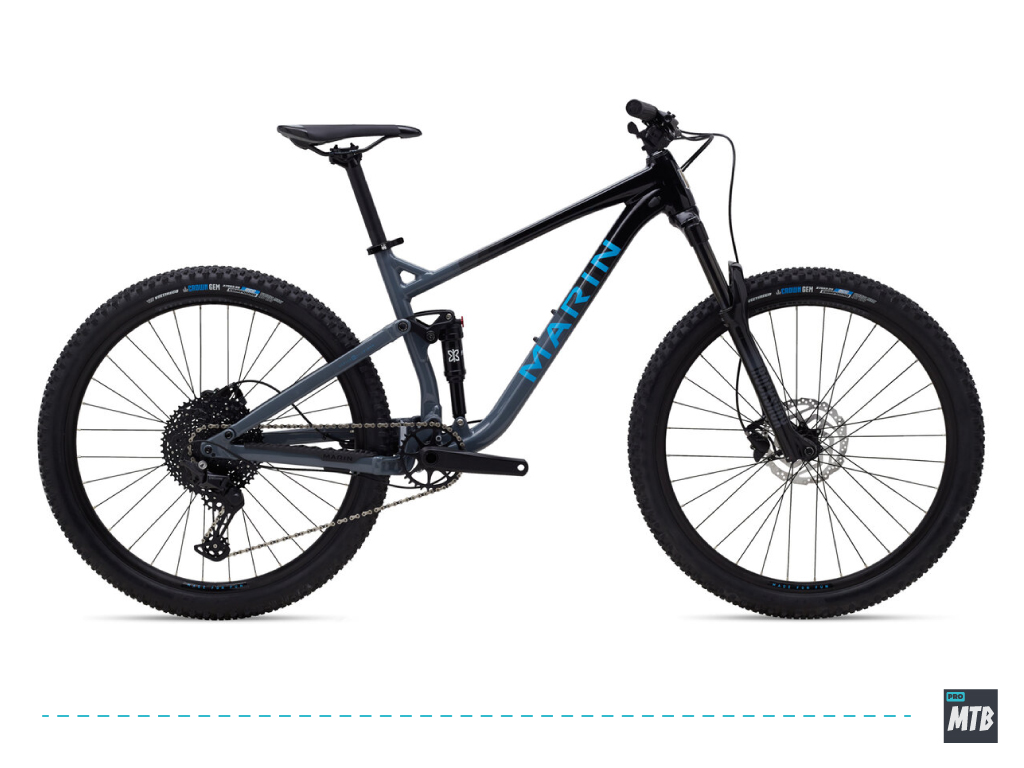 The Marin Rift Zone 27.5 1 is another excellent choice for beginners. This bike offers 27.5-inch wheels for enhanced agility and control on the trails. It's designed specifically for beginners who wish to hone their skills and become more adept at tackling technical terrain and steep slopes.
This bike is equipped with an 11-speed Shimano Deore drivetrain and Shimano MT201 hydraulic brakes, ensuring reliable performance across varying trail conditions. Overall, the Marin Rift Zone 27.5 1 offers a perfect blend of performance, comfort, and affordability for beginners.
Polygon Siskiu D5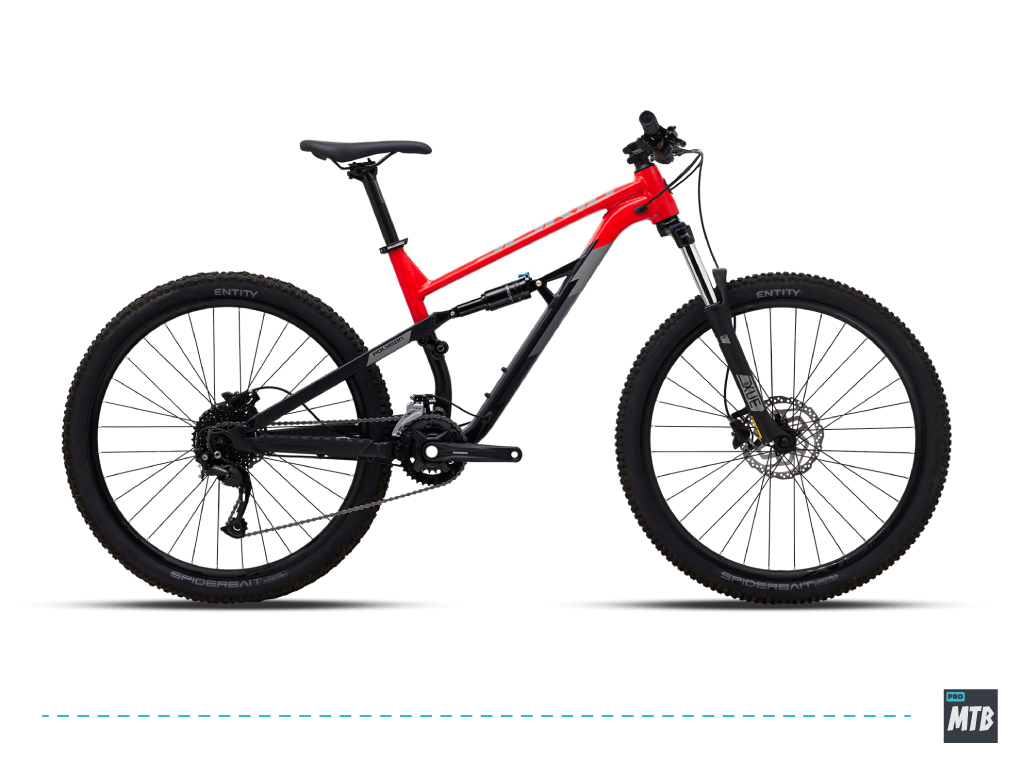 Last on our list of top full suspension bikes for beginners is the Polygon Siskiu D5. This bike offers a competitive component set and modern geometry for a comfortable ride across a variety of terrains.
The Polygon Siskiu D5 is equipped with an ALX XC Trail Frame and a SR Suntour XCM HLO fork and SR Suntour Raidon LO rear shock. These features, coupled with its modern geometry design, provide a well-rounded performance, making it a great choice for beginners.
Essential Components and Features for Beginner Mountain Bikes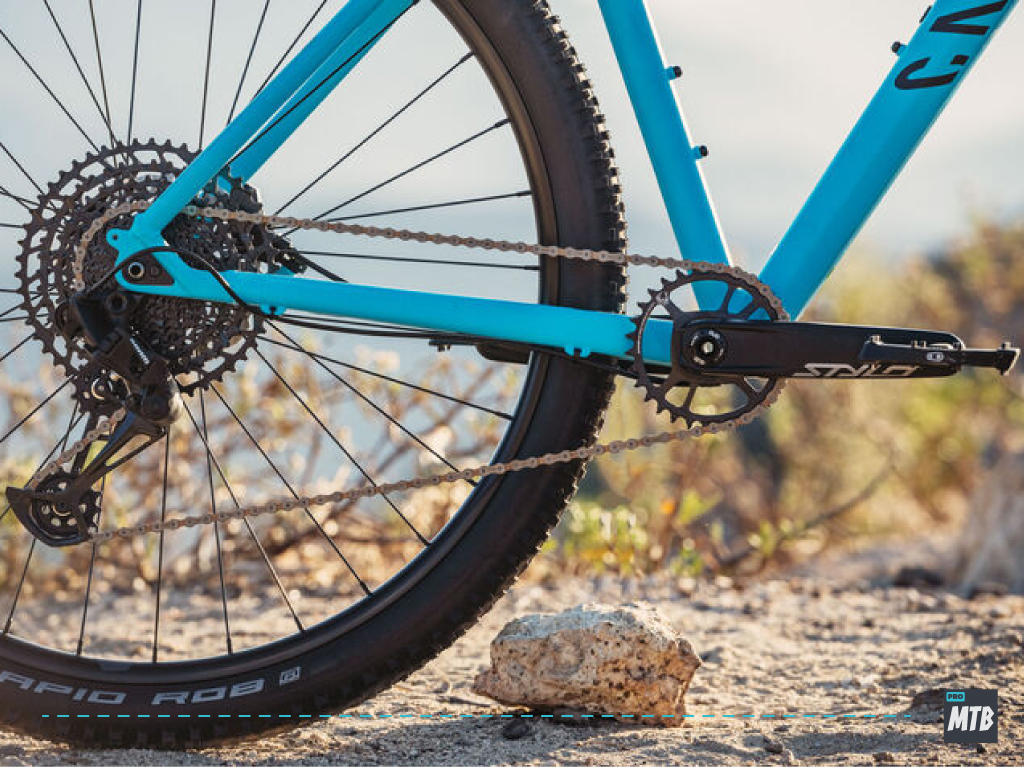 Now that we've covered some of the top beginner bikes, let's shift our focus to the key components and features to look for in a beginner mountain bike. These include the drivetrain, brakes, and suspension. These components greatly influence the bike's performance, durability, and overall ride quality.
A solid drivetrain and suitable gearing ensure a smooth and efficient ride. Good brakes, especially hydraulic disc brakes, provide better stopping power and control on the trails. Finally, a good suspension system can greatly enhance your comfort on rough terrains. Now, let's delve a little deeper into each of these components.
Drivetrain and Gearing
The drivetrain and gearing of your steed plays a significant role in determining the quality of your ride. A reliable drivetrain ensures that your bike shifts gears smoothly and efficiently. On the other hand, suitable gearing will ensure that you can efficiently tackle various terrains and inclines.
For instance, the Cannondale Trail 7.1 features a microSHIFT Acolyte with an 8-speed 12-42t cassette and 30t chainring. This kind of drivetrain and gear set-up offers a wide range of gears, making it suitable for a variety of terrains and trail conditions.
Brakes
Brakes are one of the most critical safety features of mountain bikes. They provide the stopping power you need to control your speed and navigate through trails safely. For beginners, hydraulic disc brakes are recommended as they provide greater stopping power and dependability than mechanical disc brakes.
For instance, the Cannondale Trail 7.1 features Tektro M275 hydraulic disc brakes. These brakes offer reliable stopping power across varying trail conditions, ensuring your safety during your cycling adventures.
Suspension
A good rear suspension system can greatly enhance your comfort and control on rough terrains. It absorbs shocks from the terrain, making your ride smoother and more enjoyable. For beginners, air suspension is recommended over coil suspension as it is lighter in weight, offers greater adjustability, and is more efficient.
For example, the Rocky Mountain Fusion 40 features a RockShox Judy Silver Fast Black TK Air Fork with a suspension travel of 100mm. This kind of air suspension offers a smooth and responsive ride, making it ideal for beginners tackling rough terrains.
Upgrading and Maintaining Your Beginner Mountain Bike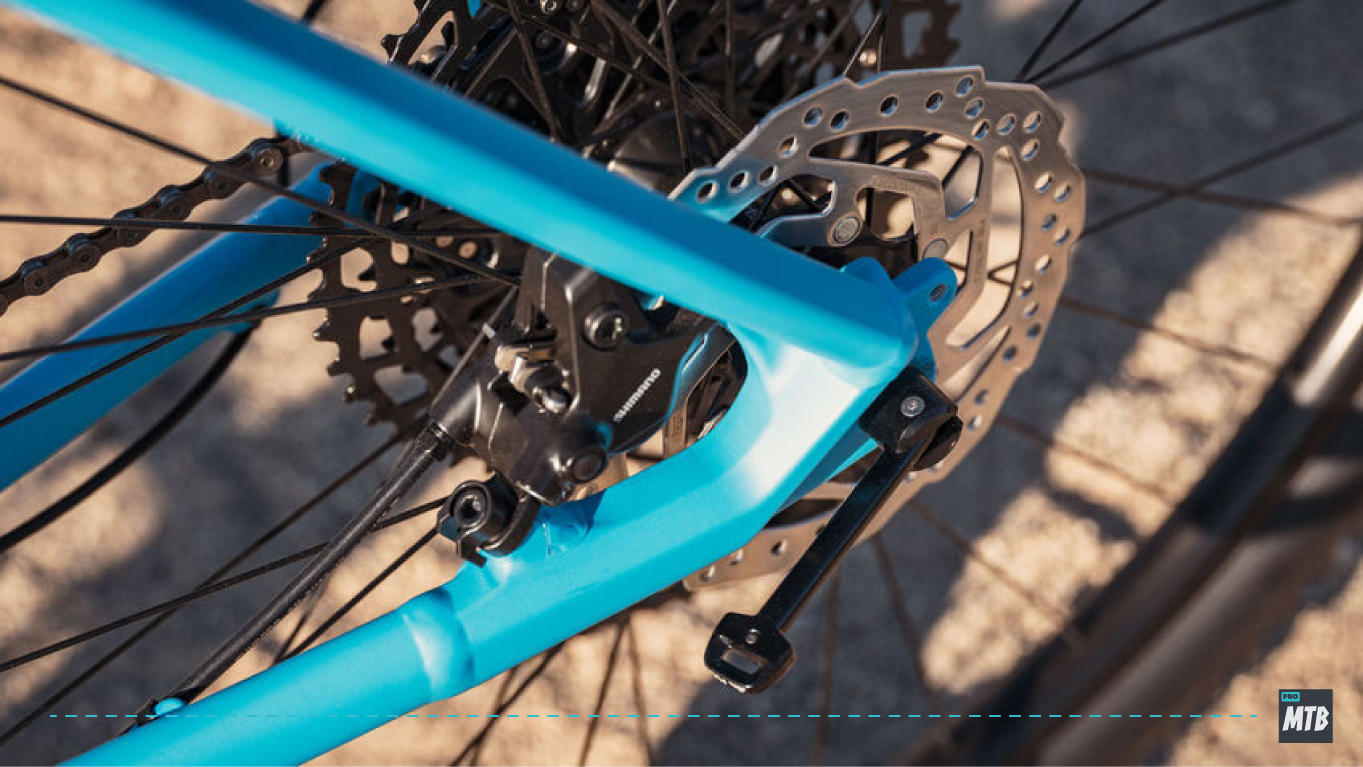 As you embark on your mountain biking journey, upgrading and maintaining your beginner mountain bike are two important aspects to consider. Upgrading components can improve performance and comfort, and regular maintenance can ensure a long-lasting and enjoyable riding experience.
When upgrading, focus on the areas of contact between the rider and the bike, such as:
These upgrades can significantly improve your comfort and control. On the other hand, regular maintenance involving routine cleaning, lubrication, and tire pressure assessments can preserve the condition of your bike and extend its lifespan.
Upgrading Components
Upgrading specific components of your bike can significantly enhance your riding experience as your skills advance. When considering upgrades, it's crucial to assess your individual needs and preferences. If you're seeking to boost performance, investing in high-quality tires with better traction and grip can improve your bike's handling and responsiveness. Upgrading the drivetrain, such as shifting to a more advanced gear system, can optimize power transfer and make climbing or accelerating smoother.
On the other hand, prioritizing comfort is essential for those seeking long-lasting enjoyment on the trails. Upgrading to a more ergonomic and supportive saddle can alleviate discomfort and prevent saddle sores during extended rides. Enhancing the cockpit by selecting handlebars and grips that suit your hand size and riding style can also reduce fatigue and enhance control.
Remember, upgrading components should be a thoughtful process that aligns with your riding goals and preferences. By carefully selecting and customizing your bike, you can create a setup that maximizes your performance and ensures a comfortable, enjoyable experience on every MTB'ing adventure.
Regular Maintenance
Regular maintenance is key to keeping your MTB in top shape and prolonging its lifespan. By investing time in routine cleaning, lubrication, and tire pressure checks, you can prevent dirt build-up, reduce friction, and ensure optimal traction and performance.
Performing a pre-ride inspection is equally vital. Start by examining the brakes, ensuring they engage smoothly and the pads have sufficient thickness. Check the drivetrain for worn-out chainrings, cassette teeth, or stretched chains that can impact shifting and efficiency. Additionally, inspect the suspension components, including forks and shocks, for any leaks, damage, or irregularities.
Addressing these issues promptly can prevent potential breakdowns or accidents on the trails, saving you from costly repairs or even injuries. Remember, regular maintenance and pre-ride inspections are essential habits that promote safe, enjoyable, and hassle-free mountain biking experiences.
Summary
In conclusion, embarking on a mountain biking journey is an exciting endeavor. However, the key to ensuring a pleasant and fulfilling experience lies in choosing the right beginner mountain bike. Consider your budget, riding style, terrain, and the bike's frame material and size. Whether you opt for a hardtail or a full suspension bike, ensure it is equipped with reliable components like a solid drivetrain, hydraulic disc brakes, and a good suspension system. As your skills progress, don't shy away from upgrading components and remember, regular maintenance is crucial to keep your bike in top shape. With the right bike and proper care, your biking journey is sure to be an exhilarating adventure.
Frequently Asked Questions
Are mountain bikes good for beginners?
Mountain bikes can be a great way for beginners to learn basic riding skills, though they may be difficult for inexperienced riders.
Overall, hardtail mountain bikes are a good option for those starting out.
Can I start mountain biking at 30?
It's definitely possible to start mountain biking at 30. Despite the extra challenge, it's worth pushing yourself to learn a new sport and enjoy the rewards that come with it as you continue the journey into your 40s.
Cycling is a great way to stay active and explore the outdoors. It's also a great way to challenge yourself and build confidence.
What should I consider when choosing mountain bikes for beginners?
When choosing a beginner MTB, consider your budget, riding style, frame material and size to ensure it meets your needs.
Think about how much you are willing to spend, what type of terrain you will be riding on, and what size frame will be most comfortable for you. Research different brands and models to find the best bike for you.
What is a hardtail mountain bike?
Hardtail mountain bikes are bikes with only a front suspension fork, providing you with an efficient yet comfortable ride on rough terrains.
This type of bike is ideal for those who want to experience the thrill of riding without the added weight and complexity of a full suspension bike. It is also a great choice for those who are looking for a more affordable option.
What is a full suspension mountain bike?
A full suspension mountain bike features both front and rear suspension, providing enhanced control and comfort on rough and technical terrains.
This type of bike is ideal for riders who want to tackle more challenging trails and terrain, as the suspension helps absorb the impact of bumps and jumps, allowing for a smoother ride.